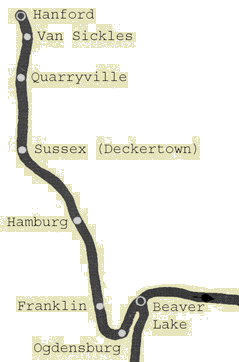 ---
Franklin Depot
NYSW Telegraph Call: 'RA'
( DL&W Telegraph Call: 'FY')
M.P. 59.3
The Franklin Station was a one and 1/2 story wood station. While it was served also by the NYSW, it was constructed and maintained by the Sussex Railroad and later the Lackawanna.
Early on there was a turntable near the station which may have been abandoned when the Lehigh & Hudson River bought the South Vernon Branch to McAfee.
There were also track scales for minerals mined at Franklin. Until 1881 the Sussex Railroad had trackage rights over the New Jersey Midland R.R. from Franklin to Hamburg, (2.4 miles.) The stretch of ex-Lehigh & Hudson track (now Susquehanna) from Hamburg to McAfee is original Sussex Railroad Right of Way and still sees train traffic (occasionally.)
The Franklin branch (Warbasse to Franklin) was abandoned in June/July 1934. The station burned down January 1, 1958.
---
Sources:


The Next Station Will Be... An Album of Photographs of Railroad Depots in
1910, Vol. 1, New York, Susquehanna & Western, Middletown & East, A
Railroadian Book-1973

Susquehanna, New York, Susquehanna & Western Railroad, John Krause &
Ed Crist
---
Any contributions of images or historical materials/maps would be most welcome.